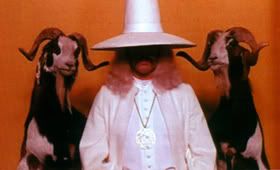 Ozo - Anambra
I would love to explain in detail why a post titled this way with these songs is necessary and appropriate for this blog, but it should be so blindingly obvious by now that I won't waste both your time and mine. Into the breach:
1.
'Holy Jungle' is a new jam from Golf Channel Recordings
, the New York label with ties to Whatever We Want and No Ordinary Monkey. It's the most beardo thing maybe ever.
Here's
my review of it on Resident Advisor. You'll note one of the comments says "What a pompous review! This record is FUN!" to which I would reply here, yeah, that's why I called it the most beardo song ever made. Sounds like fun to me, come on. Basically the track sounds like shamans clanging a bunch of metal together in collective narco-religious trance. And it samples Jodorowsky's 'Holy Mountain' where the guy unloads the cosmic myth of the nine immortals who rule the world from the mountaintop. 
2.
'Kismet (Pilooski edit)' is a whirling dervish Tibetany folk-psych jam
by German space rockers Amon Duul II that's been cut for maximum hypnosis by the
Dirty Sound System
's beloved re-edit master Pilooski. The guys from dirty have seriously good taste, and I think they know it. Disco edits are a straight-up subgenre at this point, and the dirty crew stays really one step ahead and to the left of the rest by digging the deepest and the weirdest. 
3.
Anambra by Ozo is a super-deep afro-cosmic commune jam from 1976. 
It's one of those stunning tracks that always sounds good with everything. It's so mystically narcotized, it could be a Popol Vuh jam. Loft disco impresario David Mancuso apparently plays this alot at the very end of the night. Classic wizard disco.
4.
The Myth is from the Cat People soundtrack, and is easily Anambra's twin
. In addition to singing on the single "Cat People (Putting Out the Fire)," Bowie intones wordlessly over ominous hand-drum atmosphere from Giorgio, an instrumental version of the single's intro. Could easily be a Berlin-era ambient outtake. It occurs in the film when they explain the foundation myth behind the cat people, who are an ancient mystic race. It's worth mentioning here that the Christian apologist Origen claims Joseph's patronymic was Pantheras, as his father Jacob was called Panther. 
Opening scene to Cat People, with vocal version
Bonus: Aguirre: The Wrath of God - Opening Mountain Awesomeness