1. Karlheinz Stockhausen performing at the Expo '70 in Osaka, in the German Pavilion, which he helped design.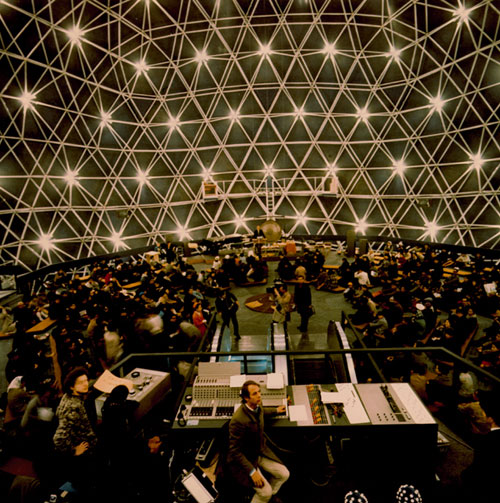 2. THE CHANCE DISCOVERY
of the June 2003 issue of Yale's architecture journal, Perspecta, while rooting through magazines at ProQM, Berlin's premier English/German art and design bookstore, yielded an encounter with an excerpt of Kobo Abe's novel, The Box Man.
This is the edition that I just found in an East Villag bookstore, deep in leisurely pursual, similar to how any junkie picks at the scab of his addiction when in the throes of one of life's hollow interludes.
The Beckett-like story of transient lives in Tokyo carried out beneath the shelter of a carefully-designed cardboard container serves as a striking literary foray into the magazine's theme of temporary architecture.
A worthy soundtrack to this story, I would say, would be the German artist Alva Noto's collaboration with Ryuichi Sakamoto, Insen. Its spare, evocative electronic manipulation of Sakamoto's piano playing is a strong sonic example of 'buildings in motion': it has at the same time a transient, ephemeral quality, as if watching leaves disintegrate in a wintry gust, but also its static, ambient dimensions give a feeling of shelter, domain and anchor. As if one had taken the large shipping container which had previously housed a new refrigerator, cut an eye slit through the upper front, and without a second thought, had abandoned one's comfortable apartment. Seized by a nameless, nomadic compulsion that had blown in one day through the floorboards.
In other words, it's a great cold weather ambient record, one you can work to, stare at dying trees to, and be a Japanese homeless wizard in a box to.


ALVA NOTO & RYUICHI SAKAMOTO - 'INSEN'

Plus like doesn't the album cover totally look like a cardboard box???
3. TOKYO = NEW YORK + LAS VEGAS
In the midst of high-tech urban overload, LCD and neon haze, streams of light and sound, a 24-hour electrified day, there's often suddenly a kind of rural stillness. as if the sheer excess of digital stimulation transforms into the experience of seeing a massive waterfall, or an ancient glacier, or an unfathomably dense redwood forest.
I won't forget a night going through Tokyo alone, while my host was at her part-time job at a restaurant, listening to Chris & Cosey's "Walking Through Heaven", which suddenly revealed itself as if for the first time.
Stung by this nocturnal passage, I went to make two videos. The first, Shibuya Overdrive, features original music and video. The second, Training Through Heaven, is a supervision demo clip, featuring Chris & Cosey synced to the sci-fi scenes from Wong Kar-Wai's 2046.
Shibuya Overdrive, 2006
Training Through Heaven, 2007
4. RIYL: FACE-MELTING JAPANESE PSYCH!!!
Recently printed primer to insane Japanese psych band Les Rallizes Denudes. SO INSANE I HAVEN'T EVEN LISTENED TO IT YET.
is it good?
For real though it is ENDLESS SONIC FLAMETHROWERS OF PHASED WHITE NOISE DESTROYING YOUR MIND IN OUTER SPACE BECAUSE YOU ARE AN ASTRONAUT AND YOU ARE SO BAKED
ITS LIKE DID YOU SEE THAT MOVIE 'SUNSHINE' BY THE DUDE WHO DID TRAINSPOTTING? IT'S EXACTLY LIKE THAT!!
this is so psych that I couldn't even find a good jpg to use, because the sound destroys all images.