Tussle - Transparent C

Nisennenmondai - Ikkkyokume

Smalltown Supersound is a label in Norway that is responsible for Lindstrom, Prins Thomas & assorted other contemporary space disco impresarios. This you know well and is disputed by no one.
NO ONE.

I bet you didn't know this: they also put out noisey, clangy rock music now.

And I bet you can easily conclude: that this is cool. If you are not able to do this, let me help you with these two examples. Enjoy please.




Tussle plays Liquidy-Liquid garagey-kraut jams. "Transparent C" is pretty ill, very gutter-percussive. The whole album "Cream Cuts" is cool and you're going to be reading alot about it soon, especially if you are a big dork. My concern actually is that for whatever reason, bands that get tagged with a sort of Liquid-Liquid urban kraut-funk kind of identity end up seriously bringing it only about half the time..the new Tussle record, like Gang Gang Dance, half of it is kind of chilled out and abstracty. Why? Why do this?

Nisenennenmondai has been already repped by this blog. They are all-girl Japanese trio and sometimes they have songs called "This Heat" and "Sonic Youth." They are pretty no-wave raw-dog, as this song can make evident to everybody except deaf people. They can make more noise than grown American menchildren twice their size.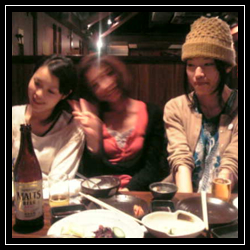 Bonus activity: here is a picture of Lindstrom. Now, whose style is he clearly jocking?




Hint: W_ _ K _ N D P R _ N C _